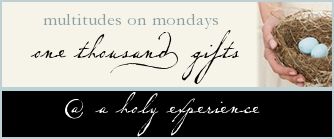 Today, my classroom is hot. Yes, hot. And as I gaze out on the freshly fallen snow, I am so thankful for that hot-ness. There's been quiet beauty all around me this past week. I feel snuggled up and safe. It's a wonderful feeling.
#41-50
41 the outside lights at Caribou lit up at dawn... just something warming about it.
42 snow before anyone has walked through it
43 seeing Gemma learn to bounce in her bouncing seat this weekend- the joy on her face was priceless!
44 Cooking with Gemma in a front-pack last night- just assembling food, not actually standing over a hot stove... don't worry!
45 Listening to Gemma yell- in the past two days, she has discovered her voice and really likes to hear herself shout.
46 For a whole delicious chicken in a crock-pot. Yum! and so easy!
47 For Skype and my bestie Katie. It's almost like we're in the same room and not hundreds of miles away.
48 For hairbows- all sorts of cute ones to put on Gigi's bald head!
49 For my mom- I did a gratitude jar for her for her birthday and it was just a blessing to think back on all the things that I'm grateful to her for.
50 Safe travel to Europe for my dad- he's 28 days until retirement and I can't wait for him to enjoy the fruits of all his hard work. He is a brilliant example of an impeccable work ethic, honorable integrity, and compassion and love. He taught me what to look for in a man and I can't thank him enough for that gift.
There's more...always more.... and I'm also thankful for Ann's book which arrived on my doorstep on Saturday. I find myself having to stop, go back, and re-read each jewel of a sentence.
Filled with thoughts and thankfulness,
Sarah