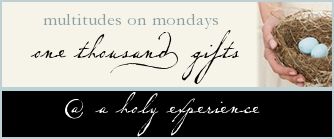 I just arrived home from work- my husband is cooking dinner for us and Gemma is in the bjorn while I type.
The dogs are anxiously awaiting any scraps that may fall from my husband's hands and Gemma's cold little hand is resting on mine as I type.
sidenote: I just heard on the news that breastfed babies are supposed to be 6 times less likely to be obese, have heart disease, cholesterol issues, diabetes and a host of other life-threatening illnesses. Great. Makes the mom who quit breast-feeding feel AWESOME.
My gratitude list this week is heavy with prayers- whispered thanks in the middle of the night and shouted thanks in the morning hours.
#51-#60
51. For the first bout of sickness with Gemma and her coming out on the other side of it seemingly okay. It showed me that she can get through it and so can Abe and I.
52. For her warm little sick body as it rested in my arms all night long MOnday night.
53. For being able to take a whole 4 days off of school because Gemma was ill and then I was ill. For subs who took good care of my kids.
54. For our health- coming out of illness makes healthy days seem so much sweeter!
55. For cold water through a straw.
56. For this... a trillion, zillion times over for this:
57. For the little kid voices in my classroom this morning singing Justin Bieber's "Never Say Never".
58. For the cluttered kitchen table.
59. For overcast skies that make me enjoy being inside.
60. For Anna- my sister. As her heart is broken at the loss of a patient, she shows her true self. She is one of the kindest, most compassionate people I know. I can't imagine a better profession for her than nurse. She truly does care for the body and soul. And for the little one she grieves, he knew she loved him. She knows he loved her. And whenever she needs that reminder, she only needs to sign it with her hands. I'm so sorry, Anna, for your loss. We all feel this absence even if we never met him. Know that you provided excellent care for him and I'm sure you were a bright spot for him. He's in a better place- wrapped in the arms of heaven. He's walking, talking, and enjoying food in ways that he never could here. What a feast he's having with Jesus!
Again, only 10 things seems too few. I may have to start doing longer lists. My heart is heavy today as I've heard some bad news about my job. My job is secure, just icky stuff going on. Makes me wish that things were different but instead of feeling dissatisfied, I'm deeply grateful for my job- one I love- the people I work with and for- they are INCREDIBLE- and my amazing students. They make everything worthwhile. Nothing compares to witnessing as a child awakens their inner creator. Watching a child become an artist is a miracle. Truly.
blessed. blessed. blessed.